The product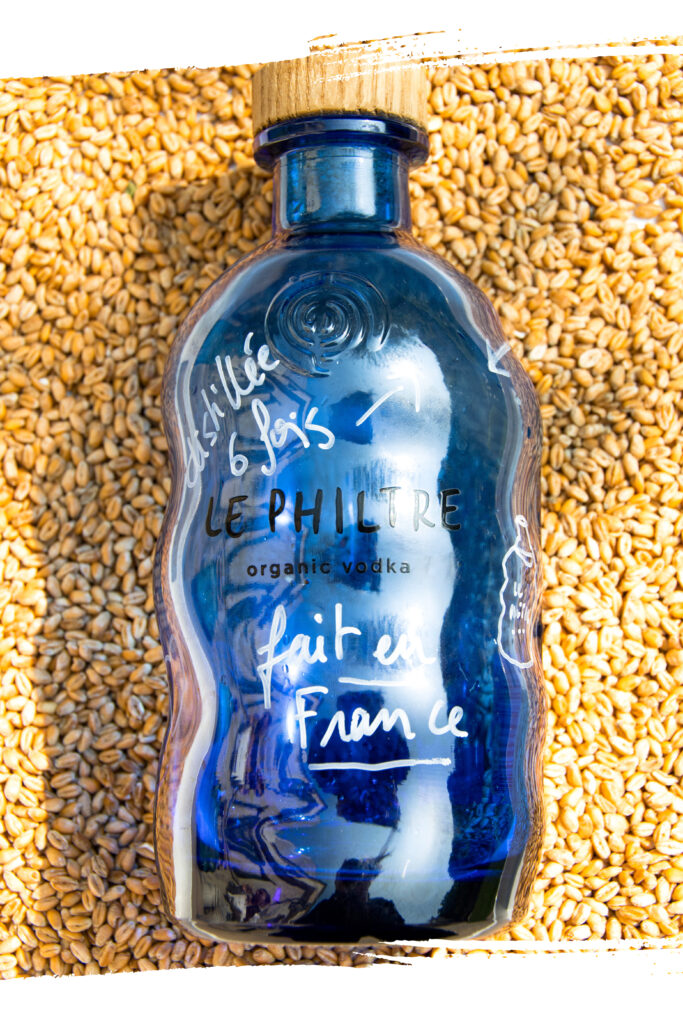 UNCOMPROMISING ECO-CONCEPTION
Le Philtre is eco-responsible from the bottle to the cap: our manufacturing process contributes to the circular economy, while minimising energy and raw material consumption
Our bottle is produced from 100% recycled glass waste.
The bottles thrown away in the sorting bins only make up 60% to 85% of the glass used to make new ones. Additional glass must therefore be produced. To do this, the industry uses sand, among other things.
So we found a solution to avoid using extra glass: recovering waste glass that would have been thrown away.
The manufacturing process of our bottle saves energy and above all does not use glass and therefore additional sand.
The bottle cap is created from oak waste from sustainably managed forests.

The label on the back of the bottle is made of bioplastic from recycled paper.

Our transport box is made of single-flute cardboard, without coloured ink or varnish.
NOBLE AND SUSTAINABLE RAW MATERIALS
We rigorously select our ingredients such as certified organic winter wheat, Gensac water, reputed to be the purest in the Charente, and the choice of "no added sugar".
ORGANIC AGRICULTURE CERTIFICATION
Our vodka is certified Organic in Europe by Ecocert, which guarantees :
Environmental and climate protection
Soil conservation and fertility
Maintenance of biodiversity
No use of synthetic chemicals
Non-use of GMOs
BULK, A SMART FORMAT
We developed the bag in box (BIB) format with a capacity of 5L to supply bars, hotels and restaurants where the flow of Philtre is important. This format allows them to reduce their waste and stocks (no more accumulation of empty bottles) and to offer their customers more accessible prices.
A second life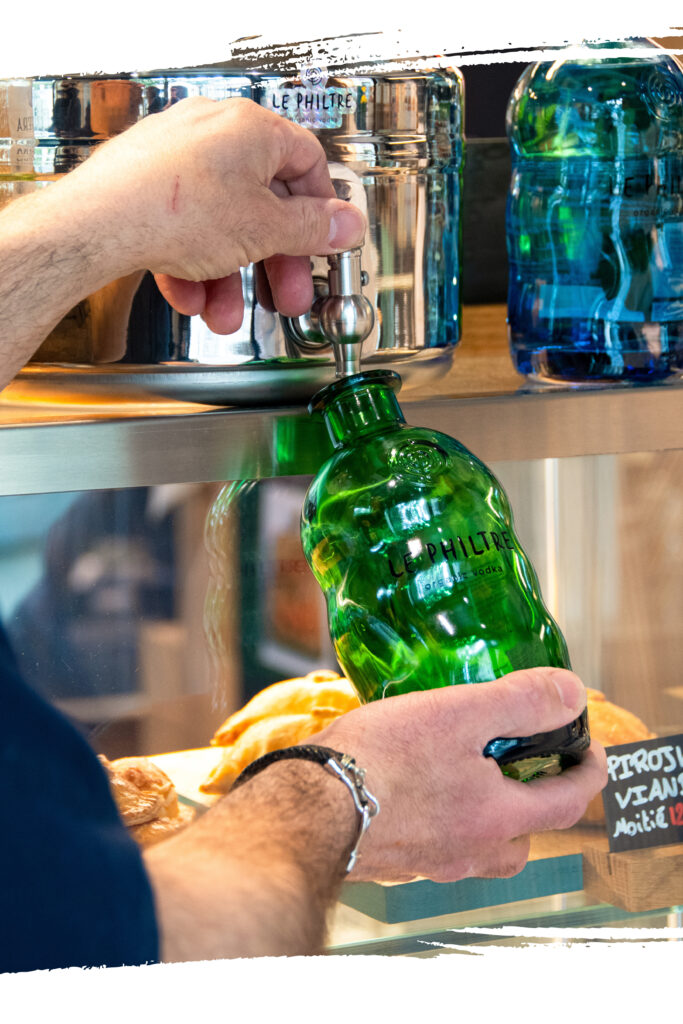 We make consumers aware of the need to reuse our bottle with fun, practical, aesthetic and economical methods.
THE REFILL
Don't throw it away, refill it!
Make a new gesture for the planet with the first refill of Le Philtre vodka.
Find our refill in exclusivity at our partners:
– Maison Arosteguy – 5 Av. Victor Hugo, 64200 Biarritz
– Kaviari Delikatessen – 60 Rue François Miron, 75004 Paris
– A La Bonne Cave – 1 Rue Joseph Bouliez, 59490 Somain
– La cave d'Annoeullin – Pl. du Général de Gaulle, 59112 Annœullin
– La Cave, Chronodrive – Pilaterie Parc Face, 3 Rue de la Ladrié, 59290 Wasquehal
As well as being environmentally friendly by reducing your carbon footprint, it's economical as you only pay for the liquid.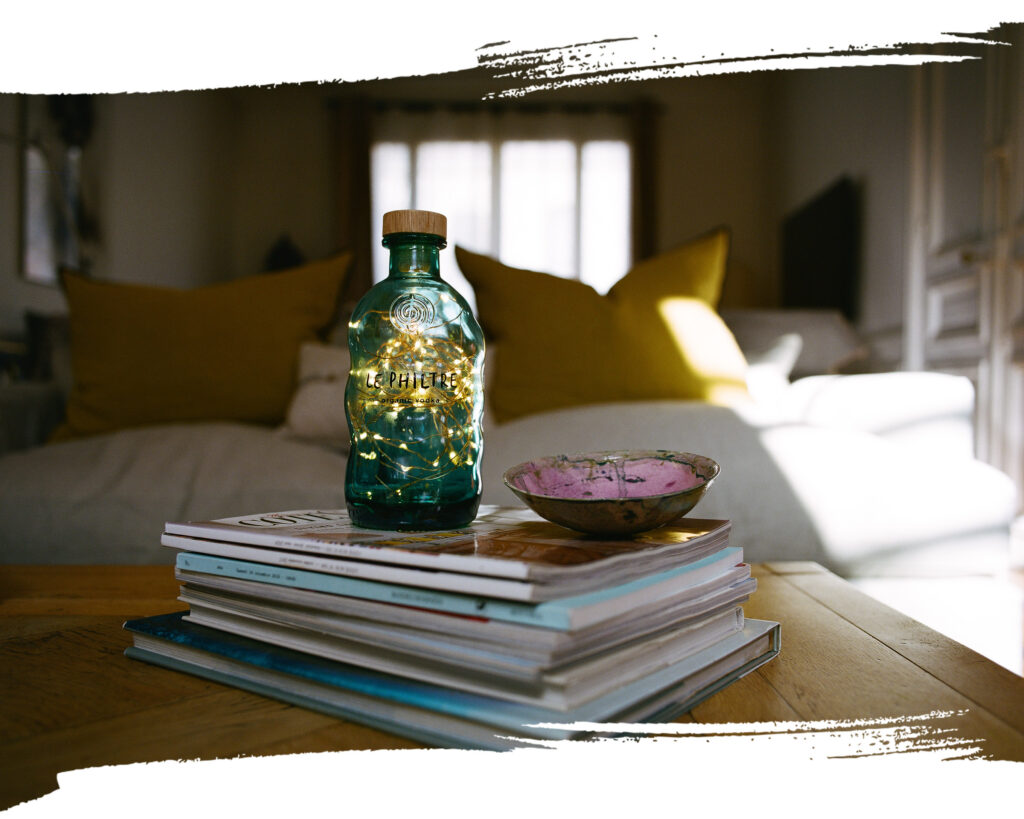 RE-USE
Our bottles can be reused!
Be creative and reuse your Le Philtre bottle: Vase, luminous decorative object, indoor diffuser, water jug, candle holder, starch jar, soap dispenser… the options are numerous.
Maison Villevert
The advanced environmental vision of our producer and now exclusive distributor in France is in line with our values.
On the strength of these convictions, Maison Villevert is constantly improving its environmental practices and measures its performance, in particular by analysing its carbon footprint (by joining the Carbon Disclosure Project – CDP): over the last four years, a saving of almost 7,000 tonnes of CO2 has been made, representing a reduction of almost 30%.
Maison Villevert has initiated a process to reduce its consumption of water, electricity and paper. The waste (liquid products from distillation) is recovered in the form of energy and the dry materials are sorted on site and then recovered by a specialised company.
Each employee is also made aware of the impact of the company's activities on the environment through training programmes.
The Maison Villevert site, dedicated to R&D, distillation and packaging, is a Classified Installation for the Environment (ICPE) involving the implementation of technical measures to prevent pollution and impact on local residents.
It has been ISO 22000 certified since 2020 and ISO 14001 since 2021, validating the Group's commitments to environmental management and food safety.
Continuing this constant and sustainable approach to the environment, the site will be awarded the High Environmental Value label, a certification designed to recognise the environmental qualities and performance of buildings. In this context, Maison Villevert is currently building the first 'carbon neutral' building on this business park.
Finally, respect for biodiversity is also a key issue, which has led Maison Villevert to initiate a long-term programme of planting landscaped beds and melliferous hedges to feed foraging insects.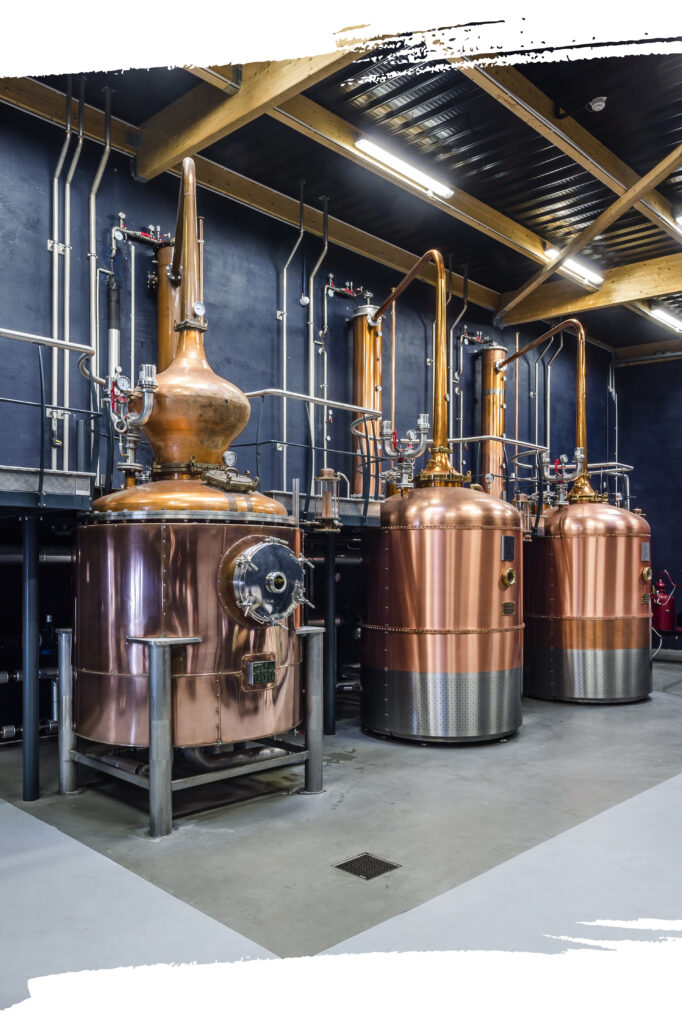 SUSTAINABLE CHOICES
We work on a daily basis with suppliers, partners and service providers who are committed, passionate and with whom we share the same values.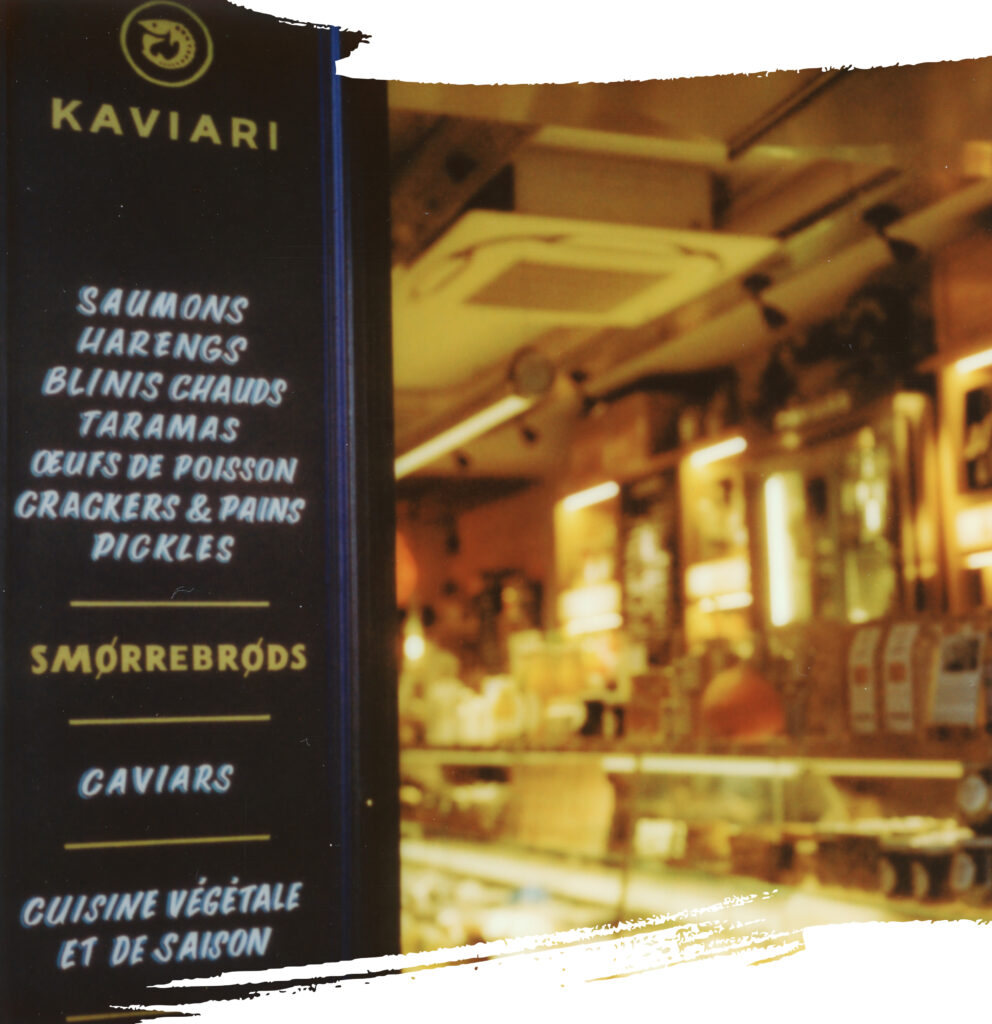 COMMITTED PARTNERS
Kaviari
The delicatessens specialising in seafood products are committed to :
– Working with suppliers who are involved in a sustainable farming or fishing process
– Reduce their environmental impact by recycling their waste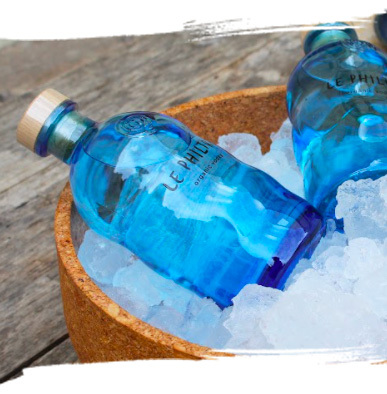 ECO-CONSCIOUS SERVICE TOOLS
We have developed a Le Philtre basin, with the French supplier Agglolux-CBL, PEFC certified since 13 June 2022.
The PEFC label thus guarantees the consumer that the product comes from responsible sources and that its is participating in the sustainable management of the forests through its purchase.
Fairbird
Our supplier, with whom we collaborate during our events, is a French brand that offers 100% natural, biodegradable and compostable straws.
OUR COMMITTED COLLABORATIONS
To embody our commitments on the ground, we favor partnerships with committed actors.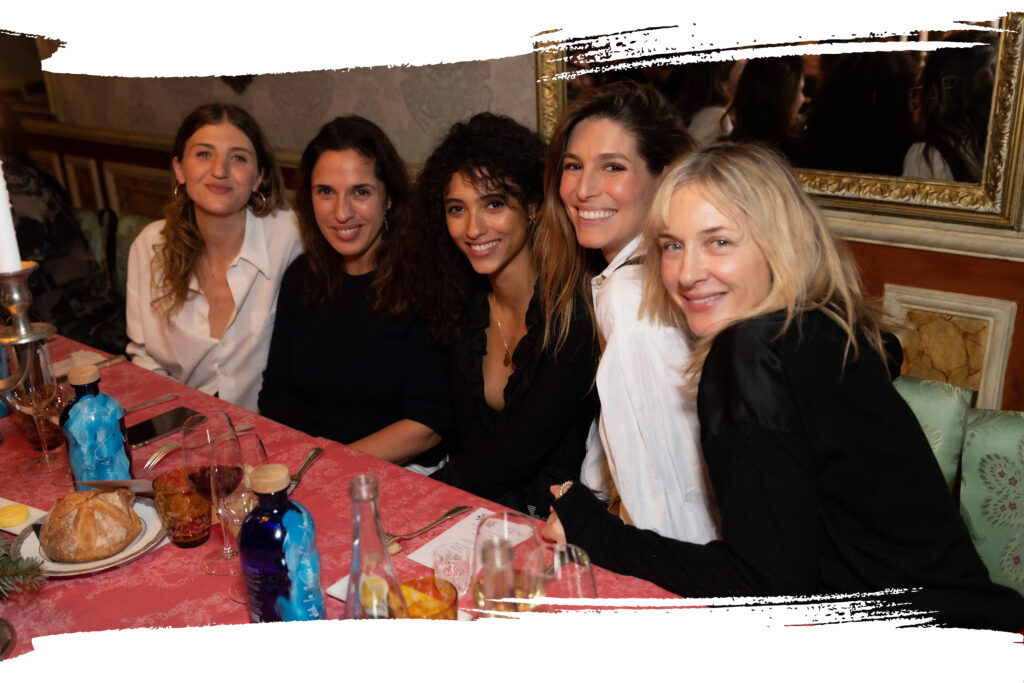 No more plastic – 2021
In collaboration with calligrapher Nicolas Ouchenir, we are committed to the oceans with No More Plastic. No More Plastic Foundation is a non-profit organisation founded by Rosalie Mann that works to raise awareness of plastic and micro plastic pollution and to find sustainable solutions for the preservation of the planet. The profits from this very limited edition of 60 numbered pieces were donated in full to the Foundation. This committed collaboration was supported by numerous personalities such as Laury Thilleman, Agathe Mougin, Mélodie Vaxelaire and Cecila Bönström.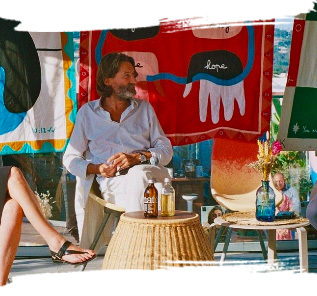 Le Consulat – Cannes 2022
In May 2022, on the occasion of the Cannes Film Festival, we were proud to be a partner of the Consulate and its communities of committed actors who shape tomorrow's imaginations, on the Rooftop of 3.14 in Cannes. This unique meeting point between the world of cinema and activism welcomed filmmakers, personalities, spokespersons, associations, NGOs, partners but also media, influencers and opinion leaders. "To share, to think about the world that is coming, to develop and amplify new collective narratives and encourage action. So that our most desirable imaginations have a chance to become reality. The Cannes Consulate. Were present: Cyril Dion, Magali Payen, Marion Cotillard, Camille Etienne, Julie Gautier, Charlotte Lemay, Jean-Pierre Goux, Julien Sebbag and many others…
Support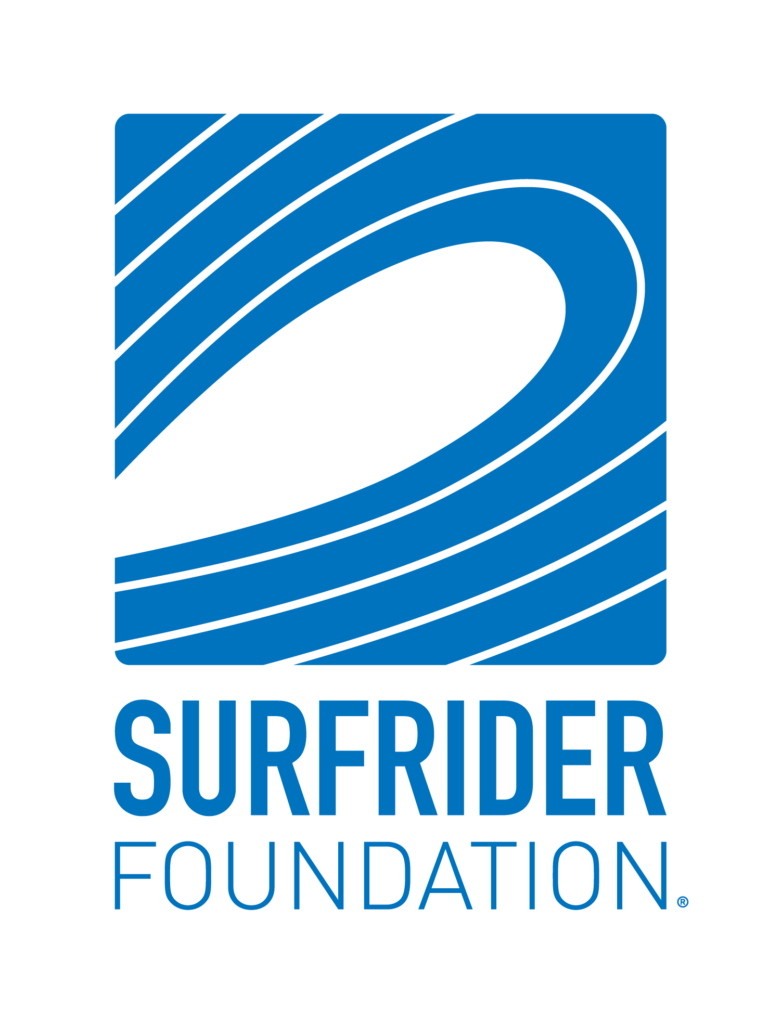 Surfrider Foundation Europe
We have been supporting Surfrider Foundation Europe since the creation of the brand in June 2020. Surfrider actively campaigns for the protection of the oceans and coastlines, intervening in various fields such as aquatic waste collection, water quality, coastal development and climate change. Because this is a cause that has been close to his heart for many years, it was only natural that Frédéric Beigbeder became a major donor to the association.
The entire Vodka Philtre team then joined the adventure, and participates in Surfrider Foundation Europe initiatives, such as collecting waste on the beaches of the Basque Country.